White double carport installed in Qatar
Roof cover of our modern carport is made of 1150g/sq.m high density polyethylene fabric coated with PVDF (Polyvinylidine Fluoride) at surface.It is high quality at waterproof,flame retardant,UV resistant, heat insulating and will not sag,fade,rot or mildew.The temperature resistance(℃) is from -40℃ to +70℃ and the life span is at least 15 years.Color options:Yellow,white,blue,green,brown and grey,etc
PRODUCT FEATURES
Product Overviews:
Dimension:

6000mm x 5950mm(width x length)

Materials:

Roof cover is PVDF membrane

Roof structure is Aluminium

Column and beam is hot galvanizing steel

Weight:

450kg(500kg with package)

Package:

Plywood case

Anti-wind

10 grade(100km/h)

Anti-snow

75kg/sq.m

Fire Resistance

DIN4102 B1/M2

Life span

15-20 years

Labour

3 persons

Time of installation

2-3 hours

Color

Yellow,Gray,Blue,White,Brown,White,etc

Container loading

32units/20ft,52units/40ft
Material introductions:
1. Materials of roof cover
Roof cover of this carport is made of 1150g/sq.m high density polyethylene fabric coated with PVDF (Polyvinylidine Fluoride) at surface.It is high quality at waterproof,flame retardant,UV resistant,heat insulating and will not sag,fade,rot or mildew.The temperature resistance(℃) is from -40℃ to +70℃ and the life span is at least 15 years.Color options:Yellow,Gray,Blue,White,Brown,White,etc
2. Materials of roof structure
The roof frame to attach the PVDF membrane is made of aluminium(6061-T6).
3. Materials of Column and Beam

It is made of Q235 steel,and we use the best surface treatment process for the steel---electrostatic powder spraying and hot galvanizing,it is high quality at resistance to corrosion and oxidation,also will be not fade.Color options:Black,White,Brown,Green,etc
Resistance of our carports to Wind and Snow load(Please contact us to get the TEST REPORT):
Wind Load
Our carport are not only the beautiful apprearance,but has also been designed to withstand the extreme climate,especcilly is the typhoon and heavy snow.It can withstand 100-120km/h Wind Speed.Besides,we also supply the expand screws for you to fix carport on the ground very well.

Snow Load
Our carport is well designed against the heavy snow.There are 6-8 aluminium pipes on the roof to support the heavy snow.Snow load exceed 0.3KN/sqm(50kg/sq.m and thickness of snow at 40-50cm).

Guarantee of Our Carports:
We have quality control team who have strict quality control on all raw material. We ensure each part of carport will be in the highest quality.
The warranty of our carport is 5 years,if you have quality problem you need submit detail instruction and send clear photos for us in 7 days after you receive the product,then we will deal with the problem in 15 days.If the structure or cover of our carports has quality problem,we can send the new parts for free to you to replace.If it is damaged by your local people,we will offer to you at our lowest cost price.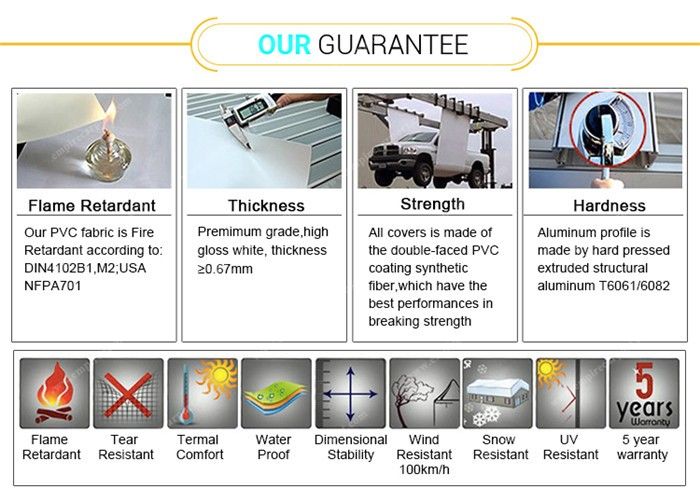 Packaging & Shipping:
The carports will be packed in wooden case to avoid something missing or damage in the transport process.Please see the package size and weight as follows.
Item

Carport size

Packing size

Packing weight

20ft container

Single carport

5.95(L)x3.1(W)m

2.9x0.58x0.43m

350kg

40units

Double carport

5.95(L)x6.0(W)m

2.9x0.58x0.50m

500kg

32units

Triple carport

5.95(L)x9.0(W)m

2.9x0.58x0.65m

650kg

24units

Carport for 4cars

5.95(L)x10.0(W)m

5.95(L)x12.0(W)m

2.9x0.58x0.75m

2.9x0.58x0.80m

750kg

800kg

24units

24units
Installation of our carports:
It is not difficult to install this carport.We will offer detail installation Manul(documents and video) to you to study.